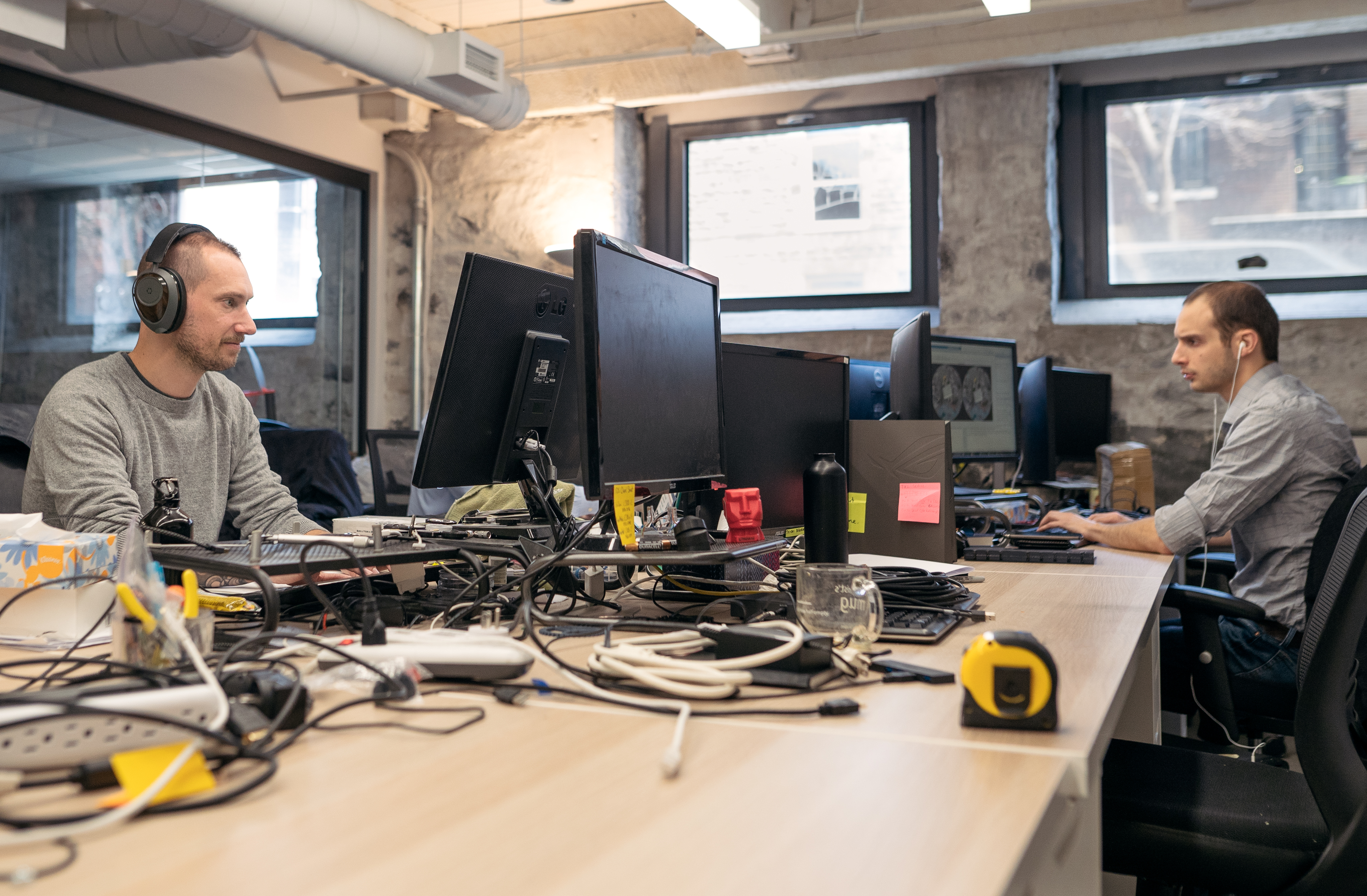 We know you have questions. Don't worry, we have the answers. If you have any questions that were not addressed in the FAQ, feel free to contact us at info@tandemlaunch.com!
1. What does TandemLaunch do?
TandemLaunch scouts, accelerates, and commercializes early-stage technologies in close partnership with entrepreneurs, universities, and consumer electronics companies. Our specialization is in commercially attractive innovation in the fields of human-computer interaction, video and image processing, and audio consumer technology. We collaborate with innovative entrepreneurs and technologists to turn these initial ideas into high quality start-up ventures that our partners then lead to international impact.
Our projects follow the normal trajectory of technology start-ups but with significant acceleration provided by TandemLaunch at each stage of growth.
Our incubation program provides innovators with mentorship, turn-key engineering and business resources, and $600,000 in seed financing. Graduates from our program can draw on further venture investment from our TandemLaunch Ventures seed fund or its 25 Investment Partners.
2. What is the purpose of the Entrepreneur-in-Residence program?
Unlike most incubators and accelerators, TandemLaunch builds companies from scratch. This is why we like to call ourselves a startup foundry. We do this by bringing together entrepreneurs, technologists, early-stage technologies, and industry input in an environment designed to encourage start-up formation.
The objective of the Entrepreneur-in-Residence program is to allow business and technical leaders to create high value projects and, ultimately, transition into the appropriate leadership roles of an emerging portfolio company.
3. Why participate in the TandemLaunch program rather than building a startup on your own?
TandemLaunch improves the quality and speed of the ideation or creation stage of a new venture through technical expertise, industry-based due diligence, and targeted sourcing of high caliber contributors. Once established, we further accelerate the incubation of the venture through turn-key staff resources, hands-on mentorship and efficient operational support. Finally, we can provide graduating new companies with further growth financing and access to a broad investor base. All companies graduated from our program have raised significant Series A rounds within 1–3 months of graduation.
4. What do you look for in candidates for the program?
The baseline requirements for candidates are a desire to be fully committed to a start-up venture in the consumer electronics technology space, and an ability to relocate to Montreal during the incubation phase of the project. Candidates are evaluated in the following areas:
Entrepreneurship: Demonstration of entrepreneurial experience and aptitude is a must for potential Entrepreneurs-in-Residence.
Technology: Skill and experience in a technical field relevant to consumer electronics is an asset to all Entrepreneurs, and a requirement for technical candidates.
Attitude: The start-up process requires individuals who are highly self-motivated, are able to deal with ambiguity, are willing to champion their ideas, are persistent, and are flexible/creative problem solvers.
Leadership: We are looking for candidates who will be able to chart a path for new ventures and build high performing teams committed to each venture's vision. Strong communication skills, a strong sense of ethics and integrity, and the ability to work effectively with others both inside and outside the organization are essential.
5. Do I physically need to be in Montreal during the program?
If you intend to take a leadership role in a new venture, you will be expected to be available in Montreal during the Creation and Incubation stages. Our Entrepreneurs-in-Residence come from all over the world, so we can provide assistance with immigration and relocation matters.
6. Do I need to join the program with my own idea?
No. Our EiRs join without an idea or a co-founder. We then work with them to find a technology matching their technical background, secure the associated intellectual property and build a vision for their future venture.
7. When can I start?
While applications are open at any time, the Entrepreneur-in-Residence program is cohort based. We accept 5 new EiR cohorts per year, normally starting in February, April, June, September and November.
8. I am completing my PHD/Master but I can start right away, is this ok ?
Yes, this is okay. However, we will look at each case separate from previous cases and situations. We will allow people to enter the EiR program while completing their PhD or Master's if they have shown they are only a few months away from completion and have the resources and capacity to do so without neglecting work at TandemLaunch and at the program.
9. Do I receive any support for relocation and immigration?
Yes, you will receive support from TandemLaunch regarding immigration and immigration forms. We will handle the paperwork alongside with you to ensure that you will have a smooth transition to Montreal and to TandemLaunch. Regarding relocation support, we will finance you for $1,500 to cover moving expenses such as flights and other relocation costs. Remember to keep your receipts as you will need them to be reimbursed. We will also provide suggestions and resources for relocation-related questions such as housing and general moving inquiries.
10. What kinds of resources are available during the creation phase?
During the first month of the program, candidates go through a qualification process where they have access to mentorship, office infrastructure, and expert network to develop initial business and validation plans.
11. Do I get to pick my co-founder?
Yes, you will get to pick your co-founder. Because of the nature of the situation, most often you will be scouting for a co-founder that fills a knowledge or skill gap in your venture. Due to this reason, you will be looking for specific skills and experiences in a co-founder that makes it natural for you to pick your co-founder based on the gap you are trying to fill.
12. How long does it typically take to make it to the Incubation stage?
The length of the Creation Phase varies significantly from project to project. The project is structured to encourage advancement to the Incubation Phase within three months of joining the program. The maximum period of time that candidates may stay in the program without successfully advancing to the incubation stage is 6 months.
In order to advance to the Incubation Phase, a project needs:
Market Validation
Technology Validation
Team Assembly
13. Do the ventures need to be based in Montreal during the program?
Yes. For the same reason that full time, fully focused Entrepreneurs-in-Residence are needed. Start-ups are hard enough with everything focused and together — they are hopeless if the team is fractured. It is critical that the team is initially together during the Incubation Stage both for this reason, and to fully leverage TandemLaunch's infrastructure. After companies graduate from the program there is no requirement for them to remain in Montreal.
14. Will I be paid?
Entrepreneurs-in-Residence receives a salary during all phases of the EiR program. On advancement to the Incubation Phase of the program, regular start-up salaries and equity considerations apply.
15. Will I be able to continue my academic or professional career as an Entrepreneur-in-Residence?
Building a start-up is really hard and being an entrepreneur is a full-time role that requires fully focused attention. Faculty members and other time-constrained contributors can be valuable advisors and supporters of a project but, in general, cannot take a leadership role. Continuing to publish papers that are relevant to the Venture is encouraged, however, as quality publications will have a material benefit in both personal and company brand.
16. Do we get to choose the CEO?
Yes, for the most part. Once you are at the stage to select and hire a CEO for your venture, you will be contacting and connecting with potential CEO candidates from all over the world. In a way you will be choosing the CEO that is the best fit for your work style and venture, but in addition, the executives at TandemLaunch will also need to decide alongside you if the potential CEO candidate is the right person to lead your venture.
17. What happens if a Venture fails?
We all cry, and then get on with life to the next entrepreneurial adventure (maybe together). Most startups fail, and while TandemLaunch works hard to reduce many of the risks of a new Venture, there will always be some failures even at TandemLaunch. Logistically, a failed Venture means that the Graduation requirements are not achieved during the term of the Incubation Agreement (or by the time that money runs out). If that happens, the Venture dissolves: the Option Agreement for the technology expires (leaving the intellectual property with the University), no equity is issued to TandemLaunch or anybody else (in fact, no company is created at all), and the collaboration ceases.